Map of Relationships (Full Version Script) Part I
Section 1: Introduction (CLICK HERE to print entire Map.)
© Al Turtle 2006
Personal Message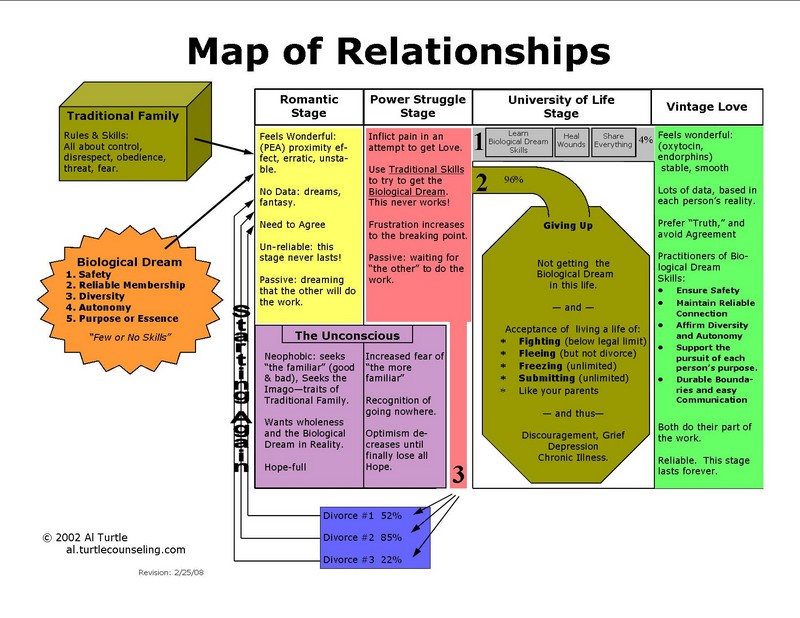 Hello. I'm Al Turtle, and welcome to a presentation of my Map of Relationships. Today, I want to share with you the whole picture of intimate relationships… – what is really going on…. So many people over the years have asked for this. They wanted a great partnership and didn't know why things went wrong. Everything they did seemed at best a partial fix.
When I found the answers to their questions, I could see how easy it was for people to get lost. I want to stop this waste of time and effort. I hope to help you understand what is going on for you, where you are in this world of intimate relationships, what are your options, and I want to inspire you to go ahead and to realistically seek your dreams.
This material is the result of over 35 years of work, research, many thousands of hours with couples and individuals, and many more thousands of hours of detailed explorations with my wife.
Before we start, I want to thank you, each and every of you for listening. I want people to get along well. I want partnerships to be great. I want to nurture fantastic marriages. When I see you, I believe that you want better relationships for yourself and for others. I believe that you also care deeply about how people get along with each other.
Why do we need a map of relationships? Because in my experience the vast majority of people are lost. I see them in my office, and I see them as I walk down the street. People who see me tell me about them: their friends, their neighbors, their parents, their children.
Most people seem to be just going in circles, following the same blind alleys that I did. But now that I've been there, to the goal, I can look back. It was all a matter of finding the path ahead of me. I think that at no time in my life have I seen more distress about the way we are relating to each other. The "institution" of marriage seems confusing and outdated. While fewer people are choosing it, they are still trying to live together with poor results. Domestic Violence is a major problem in all our cities and towns. Our politics seem a disaster area. People argue at the drop of a hat. Radio and TV talk shows are full of anger. Rather than doing the work that needs doing, people seem to prefer to yell at each other. Our kids watch and learn from all this. Teenagers and school children are fighting each other and their teachers. Discourse between people seems to be getting ruder and ruder.
While many people believe we are in the middle of a great cultural change, and that at this point, everything seems to be falling apart, I don't believe it. I am very optimistic. As I was building the Map of Relationships, I came to see the hand of a higher power.
These days many people are coming forward, and telling us what to do. There are lots of books, lectures, TV shows. Experts say "read the Bible", "have values", "use active listening", "come from your planet", "turn toward your partner," "have a covenant marriage," "renew." Many are giving you answers to problems you haven't even thought up yet.
If a great relationship is so tricky that it takes a rocket-scientist or a university professor, then I think the good Lord would have made us all rocket-scientists or university professors. We are not. Is a great relationship, a great marriage so difficult? If you need to do all that, if it is so hard to have a good relationship what are you doing? Maybe it's better to go fishing!
Now I believe it is not that hard. I like to say that Sandra, my partner, and I are putting 10% as much effort into our relationship now, as we did 10 years ago. And yet we are getting 50 times more out of it. I think it is all about following paths that work. Learning new ways to do things can be challenging. But, looking back from where I am now, the hard part was mostly wasted energy – doing things over and over again that were getting me nowhere. Like trying to start a lawnmower with no gasoline in the tank.
Thus I think we all need a good map – a tool that shows the landscape, marks the many roads, and that clearly points the way to our destination.
Personal Background
Now… let me take a moment….To tell you about me. I was born in the suburbs of Boston, Massachusetts. My father was a doctor, a Pediatrician, and my mother, who stayed home with my sister, brother and myself, was the daughter of a lawyer. I loved math, science and especially loved finding out how things worked. I went to the Viet Nam War on a Navy destroyer, the U.S.S. Edson, as an Electronics Technician. I went to college, studied Math and Physics, took a degree for teaching those subjects in High School, and then discovered my deep interest in Psychology. I have a Masters degree in Counseling.
I was married for 17 years and had 3 kids: two boys and a girl. I divorced, and was single for 5 years. My teenage kids lived with me. It was a hard time. I remarried, and soon found I was now in just as much trouble as I had been in my first marriage. Frantically, I began to really study how to make my relationship work. One result of my learning was that 15 years ago I began to offer Marriage Therapy in my private counseling practice.
Now after 20 years of this marriage, and perhaps having seen 2000 couples in my office, and all the work of discovering and learning I've done, I believe I can say, "I've got it. I understand."
Why listen to me
Why, you may ask, should you listen to me, Al Turtle? Here are some of my traits. I am a deep and exact person, who has been there. I was the kind of kid who took everything apart. My curiosity seemed endless. I wanted to understand everything. The unknown attracted me. I am stubborn. If people told me to take something for granted, I would ignore them and dig in till I had figured it out. I loved and do love structure. My parents and teachers told me I was bright, but lazy. However, I learned that I just love efficiency. In physics I would rather learn the underlying concepts than memorize a bunch of formulas. I am thorough. As a technician I like to fix things so that they don't need fixing ever again.
As a petty officer in the Navy, I also learned to get other people to do my work. And so I became a teacher. One thing I learned was to do it first myself, before asking anyone else to do it. Besides, it is easier to teach by modeling, by example. That is true to this day. I never ask my clients to do anything I haven't done myself many times. I am practical. I don't want to do it, if it doesn't work.
Eventually I became focused on the problem of "people not getting along with each other." I might owe this to my Dad. As a pediatrician, he felt he knew what to do for children under the age of 4, to prevent illness. He thought we should be able to prevent the social troubles parents have with teenagers. But he didn't know what to do, himself.
I don't believe in complicated explanations. I believe the big questions must really be so simple, that any of us can grab the answers. God's messages must not require a PhD.
I didn't develop the Map of Relationships for scholars. I wanted it for me and for you. I am, like you, a person who badly wanted the kind of relationship that I dreamed of as a kid. I have stubbornly pursued it. Eventually I figured it out, and my partner and I did it. And now I want to share with you what it takes.
What is a Marriage?
Oh. One thing before I go on. I will be using the word "marriage" often. I want you to be clear how I use this word. I believe that two people, living together in intimacy, make a marriage. Whether they are legally or sacramentally married or even of the same gender, it does not seem to make any difference as far as this Map is concerned. If you have moved in together, I think you might as well consider yourself married.
What will a Map do for you?
And so, what can this Map of Relationships do for you? Like all maps, it will help you make sense of where you are, help you make good choices about where you want to go, and especially how to get there. If you are single, never married, it will let you understand better what is ahead of you. If you are divorced, it will probably give you some encouragement and direct your steps. If you are In Love, this may not do much for you. You are already enjoying life a lot anyway. Still, this Map will let you plan ahead. If you are married, unhappy, struggling or fighting, this Map will probably restore hope, make you feel better about where you are, will point the way to the choices ahead of you and will shorten the way forward to a great relationship.
If you are long-time married, but feeling a bit dissatisfied, this Map may help you start on your way back toward a really great, joy-filled marriage. If you are in a relationship, but on the point of considering whether to leave it or not, this Map will definitely help with that decision. If you are married and frantically trying to do better, reading books, taking workshops, etc. this Map may help you in choosing what courses to take.
My Goals
So, what are my goals in sharing this Map of Relationship? First, I want to give you the data and then stand back and let you make your decisions. I have learned to do this with my clients. When they ask me, "What should I do?" I give them my best guess and then let them make their own choices. I refuse to make decisions for other people. I don't think I am qualified to make decisions for others.
My personal Bias
Second, my personal Bias is that I want you all to move toward what I call Vintage Love. I dream of a world where everywhere you go you meet with couples who are happy, who are raising happy children, who are contributing to a healthy community. I've learned that it takes a whole village to raise one child. I've also heard that it takes a whole village to keep parents sane while they are raising that child. I want a village, a community, a country, a world where we all live peacefully. That is a big wish? I just want people to get along.